Projektgruppen för nya T25 har fått in enkätsvar
Publicerad: 30 november, 2020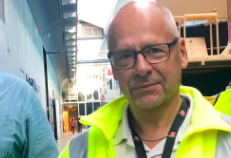 Projektgruppen inom STVF, som har som uppgift att ta fram en ny och uppdaterad version av T25 från 2012, har fått in ett 30-tal enkätsvar fram till deadline 15 november.
- Jag hade nog hoppats på fler svar och det går bra för den som har synpunkter att höra av sig även framöver. Ju mer input vi får desto bättre av folk som jobbar med rörinspektion på fältet, säger Sven Stenbäck från projektgruppen.
Projektgruppen hade möte 27 november och gick då igenom de enkätsvar som man fått in fram till 15 november. Detta kommer nu att följas av ett antal temamöten under våren då fokus riktas mot olika områden i det som ska bli den nya och uppdaterade versionen av T25.
- Vi kommer bland annat att diskutera de nya krav som ställs på rörinspektioner.
Om den gamla versionen av T25 var inriktad emot beställare så är avsikten med den nya att den ska vara inriktad emot inspektörer och kvalitetskrav på inspektion.
- Nya T25 ska borga för att den som beställer inspektion ska få den utförd på samma sätt och med samma kvalitet oavsett utförare.
Om det innebär att STVF kommer att behöva se över den utbildning som rörinspektörer genomgår i syfte att få en bra kvalitet både på utbildning och uppföljning återstår att se.
Under våren 2021 kommer alltså projektgruppen att diskutera vidare i temamöten om innehållet och troligen kommer då externa intressenter att bjudas in att delta.
- Till exempel när det gäller kvaliteten på utrustning kan vi behöva lyssna runt för att se hur det ser ut på marknaden idag, vad som är gängse norm och vilka krav som man kan begära utan att slå undan fötterna på företag.
När det gäller krav på kvalitet på utrustningen så angav exempelvis gamla T25 att resultat av filmning skulle ske i färg, medan man idag kan ställa krav på HD-kvalitet etc.
I och med att Teknikträffen 2021 ställdes in så kommer projektgruppen inte ha möjlighet att redovisa sitt arbete och "råmaterial" just nu. Och om man hinner bli klara med den nya versionen till årsskiftet 2021-2022 återstår att se.
- Coronapandemin har ju gjort att vi inte kan genomföra några fysiska möten och därför återstår det också att se hur långt vi hinner under näst år. Men att nya T25 ska ut under 2022, det står fast, säger Sven Stenbäck.
A fatal error has occurred
Feel free to mail this error to kontakt@stlk.se on STLK, click the button below.
Error text:

Uncaught TypeError: count(): Argument #1 ($value) must be of type Countable|array, null given in /www/webvol4/b0/o5zxt9hqi05ex70/stlk.se/public_html/site-content/themes/stlk/views/news/single.php:65 Stack trace: #0 /www/webvol4/b0/o5zxt9hqi05ex70/stlk.se/public_html/site-admin/classes/view.php(47): include() #1 /www/webvol4/b0/o5zxt9hqi05ex70/stlk.se/public_html/site-admin/classes/content.php(1596): View::factory('news/single', Object(Content)) #2 /www/webvol4/b0/o5zxt9hqi05ex70/stlk.se/public_html/site-admin/widgets/content_single.php(30): Content->view() #3 /www/webvol4/b0/o5zxt9hqi05ex70/stlk.se/public_html/site-admin/functions.php(6867): block_render_content_single('7', false) #4 /www/webvol4/b0/o5zxt9hqi05ex70/stlk.se/public_html/site-admin/functions.php(7191): bliss_draw_widget('layout', '', 'news', 'main', '7', 'content_single', NULL, false) #5 /www/webvol4/b0/o5zxt9hqi05ex70/stlk.se/public_html/site-content/themes/stlk/news.php(50): bliss_draw_section('main') #6 /www/webvol4/b0/o5zxt9hqi05ex70/stlk.se/public_html/site-admin/bootstrap.php(508): include('/www/webvol4/b0...') #7 /www/webvol4/b0/o5zxt9hqi05ex70/stlk.se/public_html/index.php(8): require('/www/webvol4/b0...') #8 {main} thrown
In the file /www/webvol4/b0/o5zxt9hqi05ex70/stlk.se/public_html/site-content/themes/stlk/views/news/single.php at row 65
---